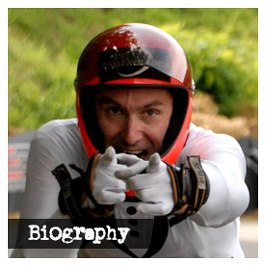 Ladies an Gentlemen, Boys and Girls, Welcome to my New Website!

What does skating mean to me? speed, training, competition,  but also fun, freedom and relax.
Even though my discipline has been inline downhill for the last years (together with Inline Hockey until 2009 and some long distance speed skating and RollerSoccer for fun) I love inline skating in any form.
Inline skating is definitely part of my life.
It is a pleasure and a honor for me to be part of the 2015 FILA Skates International Team and to welcome you to my site.
I would like to officially say a big thank you to my new sponsor FILA Skates and my old time sponsor, supporter and friend Alessandra Rapaccioli / Banca Fideuram.
Stay tuned and keep on skating with FILA and d-rider guys! 
I have been skating for 33 years, now with a break during high school, when I focused more on athletics (200 and 400m). I started playing rink hockey when I was 8 years old (no inline skates back then), moving to speedskating and finally to Inline Downhill in 2000.
I have been competing on the Inline downhill world cup circuit for 15 seasons, racing allover the world, from South Africa to Canada, the USA and all over Europe.
I won the Italian Inline Dowhill National Championships two years ago, and during my career I have been three times bronze medalist in the IIDA World Cup Overall Ranking.
I am a member of the Italian Inline Downhill national time since 2004.
Furthermore I have been:
- Freestyle Skating National Champion 2003.
- RollerCross National Champion 2003.
- Endurance World Record Holder (Inlining the Nile, 1470km in 10 days on the Nile River).
- Rollersoccer European Championships Bronze medalist, Amsterdam 2010. 
I am also acting as speed skating coach and inline skates test driver
- Level 1 Speed Skating Coach, currently in charge of the speed skating section of GS Green Team Piacenza (kids from 6 to 21 years of age).
- From 1999 to 2005 I have been testing skates for FILA inline skates and from 2005 Until 2014 Official test driver for fitness and semi-racing skates for Rollerblade World, ltd. In 2015 I joined the FILA Skates International Team.
I am a rider and coach, but, at the same time I enjoy acting as event organizer and event announcer.
From 2005 until 2011 I have been President of the IIDA, International Inline Downhill Association.
I have organized three Inine Downhill world cup events in Northern Italy (Bettola 2003, and 2004 and Bobbio 2005).
And one FIRS Inline Downhill World Championships (Bettola 2011).
Several events on skates, among which and international speed skating competition in Piacenza in 2014 during which it has been attempted to break the One mile World Record (for the first time in Italy since 2000).
I am a well known event announcer, in Italian, English, French and Arabic. I have acted as the official announcer during the IIDA group races world cup events in Teolo, Padova since 2005 and as the official announcer of the Arena at the 2011 Inline Hockey World Championships in Roccaraso, Italy.

Future Plans: 
-Keep on racing on the Inline Downhill World Cup Circuit until the 2017 World Roller Games.
-Begin to race in long distance competitions (6 hours and A2A and NYC 100k) with the project of setting a new solo 12 hours world record.
-Contribute fruitfully to the development of the FILA Skates International Team.